January 18, 2018. In the current political context, a number of members of congress are thinking about immigration even more than they usually do. To inform the discussion, FPI occasionally provides information about the residents of different congressional districts. Here is a little bit of background on the 13th Congressional District located in New York City, which includes upper Manhattan and a part of the Bronx.
There are 3.1 million immigrants living in New York City, and 280,000 in the 13th Congressional District. The immigrant share in this district mirrors the share of New York City, with 37 percent of the population born in another country. The same is true for immigration status. About half of the residents in both the 13th Congressional District and New York City as a whole are naturalized citizens and half are not. [See Figure 1]
Figure 1.
But, New York is a city of neighborhoods. Although the share of immigrants in the 13th district are parallel to those of the city overall, the country of origin for immigrants is very different. In New York City, the population is extraordinarily diverse and no one country of origin dominates. Dominicans, the largest immigrant group, make up 13 percent of the city's total immigrant population, with the Chinese (10 percent), Mexican (6 percent), and Jamaican (6 percent) population following closely behind. [See figure 2]
In the 13th Congressional District, there is one group that is much larger than the others: Dominicans make up almost half of all immigrants (48 percent) in the district. After the Dominican Republic, the top 15 groups include many from the Mexico and Central and South America, both Spanish-speaking and non-Spanish-speaking Caribbean countries (Jamaica, Haiti, Cuba), Asian and Pacific Island countries (China, Bangladesh, Philippines, India), and one country in Africa, Ghana. [See figure 2]
Figure 2.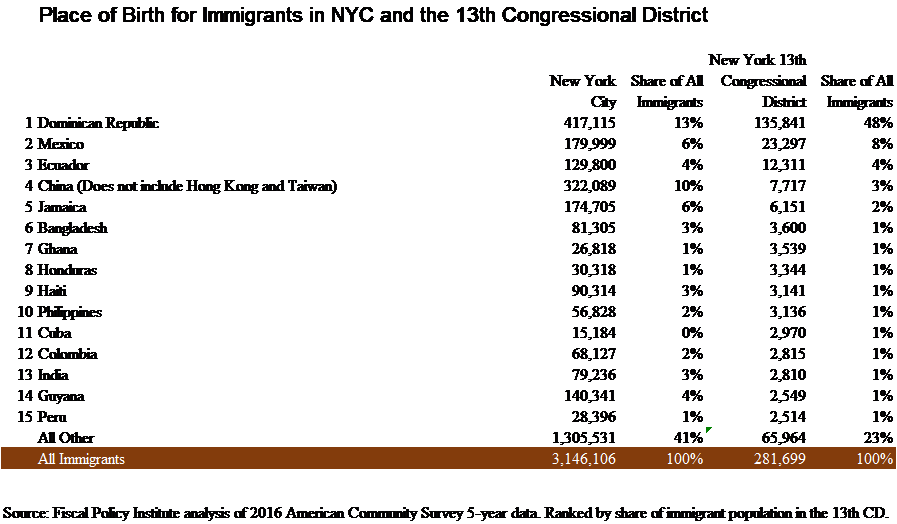 Click here for a printable fact sheet on the 13th Congressional District.
By: David Dyssegaard Kallick and Cyierra Roldan