Ma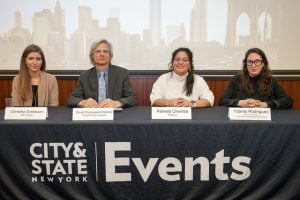 rch 3, 2019. FPI's Deputy Director, David Dyssegaard Kallick, joined New York State Assemblywoman Catalina Cruz, Christina Goldbaum from the New York Times, Pamela Chomba of FWD.us, Ydanis Rodriguez, NYC Councilman Chairman for the transportation committee, Steve Choi, Executive Director of the New York Immigration Coalition, Jon Lentz, Editor-in-Chief at City & State NY, Zach Ahmad from the New York Civil Liberties Union, Natalia Francisco Lopez of Nobody Leaves Mid-Hudson, and many others in a panel to urge New York state to allow undocumented immigrants access to driver's licenses. This forum follows the release of the Fiscal Policy Institute's report, "Driving Together: Benefits of Allowing All New Yorkers to Apply for Licenses."
This event was held on Friday March 1, 2019 at New York Law School and was presented by the New York Immigration Coalition and New York Law School Impact Center for Public Interest Law.
Click here for a full recording of the forum.
To view media coverage by Voices of New York, click here.
According to David Dyssegaard Kallick, deputy director of the Fiscal Policy Institute, (…) it is estimated that, if the bill promoted by Bronx state Sen. Luis Sepúlveda and Assemblyman Marcos Crespo is approved, an initial 150,000 immigrants [in NYC] would apply for the license, reaching [statewide, more than] 250,000 in three years. This would signify an additional income of $26 million in one-time fees, $28 million for the state, and $21 million for local governments.

In addition, it is estimated that the influx of money would make it possible to allocate $8.6 million for MTA improvements.

"Licenses would transform the lives of workers, and this would mean better relationships between employers and employees. Approving them is good for everyone," said Kallick.